The Zoological Garden University of Ibadan came into existence over six decades ago and became a full-fledged zoo in 1974. It is mainly for conservation, education and entertainment purposes.
The zoo has undergone tremendous transformation in the drive towards international standards. It has been moved from obscurity to visibility and greater patronage among other means through the renovation and acquisition of infrastructure and by being ICT-sensitive. With a new architectural design for the Zoo, there have been changes to different structures.
The garden has now been stocked with more and new species of animals. Animals are grouped in different sections of the zoo. Sections in the garden include the Avian, Herbivore, Carnivore, Reptile, Primate and small animal sections.
Scrolling Pictures
Indeed, the vision and mission of the zoo has been redefined.
The Vision is to be a world- class zoo geared towards sustaining the ecosystem through conserving wildlife while our Mission is aimed
1. To serve as a dynamic custodian of animal species;
2. To see to the conservation of animals especially endangered ones, so as to sustain biodiversity; and
3. To contribute to the transformation of our society through educating and inspiring visitors to take action for the protection of wildlife.
STAFF WELFARE
Staff has greatly improved in number, in exposure and in welfare.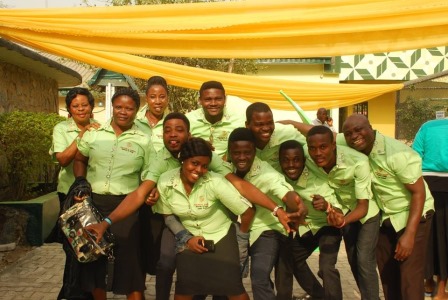 Staff members at the Zoo commissioning
EVENTS IN THE GARDEN
v Cadets from the Nigeria Defence Academy, Kaduna
v Cadets from the Nigerian Defence Academy, Kaduna Presenting a plaque to the Director "Prof. Olajumoke Morenikeji"
Prof Akinkugbes visit
The upgraded zoo was commissioned by Pastor E.A Adeboye
The Administrative building in honour of Pastor E.A Adeboye was commissioned by Prof Isaac Folorunso
The upgraded serpentarium was commissioned by Prof Olajumoke Morenikeji.