Two landmark training workshops have been held in the UI zoo.
FIRST NATIONAL WORKSHOP 2012: The Zoological Garden organized the First National Zoo Training workshop tagged " Best Practices in Zoo keeping" from 6th – 8th November, 2012. The workshop was for Wildlife Park managers, supervisors and keepers, zoo/wildlife curators and veterinary officers. The opening ceremony was graced by the Vice Chancellor and Principal Officers of the University. Participants came from all over Nigeria. The workshop was a huge success. A communiqué was released at the end of the workshop and the establishment of the "Nigerian Association of Zoological Gardens (NAZG) was set in motion.
THE 2014 INTERNATIONAL TRAINING WORKSHOP on Wildlife and Zoo Management (U.I. ZOO 2014) which was held between 4th to 7th November was indeed a success. The theme of the workshop was "Wildlife and Zoo Management in the 21st Century" and it successfully addressed the state of wildlife and zoo management including policy making, human resources, health of zoo/wildlife workers and handlers, care and handling of animals, safety in the sector, and visitor management among other issues.
UI Zoo staff members at the International Training Workshop
A cross section of participants at the Zoo International Training Workshop
The Vice Chancellor and other Principal Officers at the Zoo International Training Workshop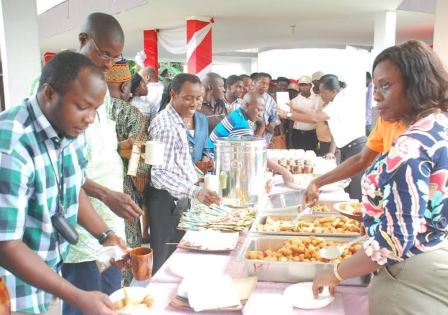 Tea break at the Zoo International Training Workshop
INDUSTRIAL TRAINING
Laboratory work has been included in Industrial Training (IT) for undergraduate students in the zoo.
INTERNATIONAL TRAINING
One of our zoo supervisors, Mr. Nwaokolo, P. C. was sent for a one month Proficiency Training at the Bristol Zoo Gardens, United Kingdom from 2nd September to 2nd October, 2014.