In its determination to consciously showcase the wealth of opportunities in both  basic and applied innovative  researches of the University of Ibadan to potential investors,  users, entrepreneurs and other stakeholders, the institution is organising a research and development fair,  tagged UI Town-Gown Connect, 2016 from Tuesday 8 to Wednesday 8. November,  in the University's  International Conference Centre.
The fair, which is a prelude to the University's 68th foundation day anniversary  and 2016 convocation ceremonies, according to the institution's Vice-Chancellor, Prof. Abel Idowu Olayinka,  is expected to be an annual event and "will be a part of pre-convocation activities."
The VC, while addressing a press conference in his office on Monday 7 November, 2016 said "it will be an annual occurrence as part of pre-convocation activities with over 100 research exhibitions.
Important dignitaries from both the public and the private sector are expected to attend the fair.
 Prof.  Olayinka noted  that the mandate of the institution is to teach students, but beyond teaching "we also  engage in research which is in line with the University's vision to be a world-class institution geared towards meeting societal goals."
He said the fair will exhibit research findings and innovations which can help to meet societal needs and proffer solutions to societal problems.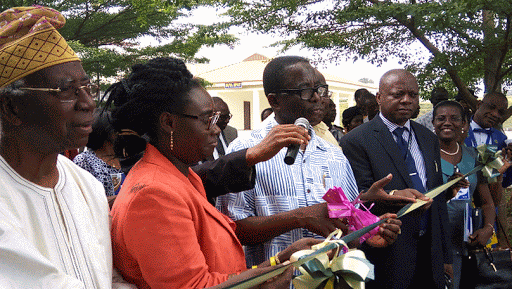 Mr. Paul Gbededo, Group Managing Director, Flour Mills of Nigeria Plc,supported by Emeritus Prof. Oladipo Akinkugbe, former VC, UNILORIN and ABU, Prof. Olanike Adeyemo, Chairperson, 2016 UI Research and Development Fair on the right and Prof. Abel Idowu Olayinka, UI VC, on the left, declaring the fair open in the International Conference Centre on Tuesday
Speaking, the Chairperson of the Research and Development Fair, Prof. Olanike Adeyemo said  most research fairs are usually in the area of science and technology, stressing that "this year's research fair will witness research exhibitions in the area of arts and humanities, which have the desired impact on the populace and the government. 
Prof. Adeyemo said "the fair will not be about talks but we are looking forward to collaboration with industries that can turn our ideas into products."
 Prof. Olayinka further disclosed that   442 PhDs and 1 Doctor of Medicine (MD), 5598 First Degrees,  265 Diplomas and 3569 Degree of Masters will be awarded to successful candidates at this year's graduation ceremonies.
An important  part of the celebration, this year, will be the conferment of honorary degrees on three distinguished Nigerians, who, according to Prof.  Olayinka, are being honoured based on their entrepreneurial strength,  outstanding academic achievements and true philanthropic activities.
"These distinguished Nigerians include the  leading investor in Africa, Alhaji Aliko Dangote, in recognition of his entrepreneurial skills. Secondly, the literary giant, Prof. 'Niyi Osundare and Chief 'Bode Amao who built the University Crèche and has extended scholarship to indigent students from various institutions including the University of Ibadan through its Bode Amao Foundation", the VC disclosed.
Tayo Akisanya & Olatunji Oladejo,
Directorate of Public Communication
Click to Share